Among all the currencies around the world, Bitcoin has been a hot favorite for most of the digital currency lovers, after all 1 bitcoin goes for 2700$.But bitcoin is not the only player in the game, some other winners are also getting the pace like Ethereum & Ripple.
However, the value of these currencies is way below than bitcoin, capital investors are very much likely to take a bite of these small crypto players.
Value of 1 ethereum comes in about 230$ while Ripple comes in almost 0.4$, We can understand why investors would like to go with these currency.
According to Olaf Carlson-Wee, chief executive officer of cryptocurrency hedge fund Polychain Capital, by 2018 no of users of ethereum may increase by a large extent & there can be a clash of titans between Ethereum & Bitcoins.
Like bitcoin, ethereum also has same phenomenon of working as the digital currency linked to the ethereum blockchain.
"What we've seen in ethereum is a much richer, organic developer ecosystem develop very, very quickly, which is what has driven ethereum's price growth, which has actually been much more aggressive than bitcoin," said Carlson-Wee, in an interview on Bloomberg Television Tuesday.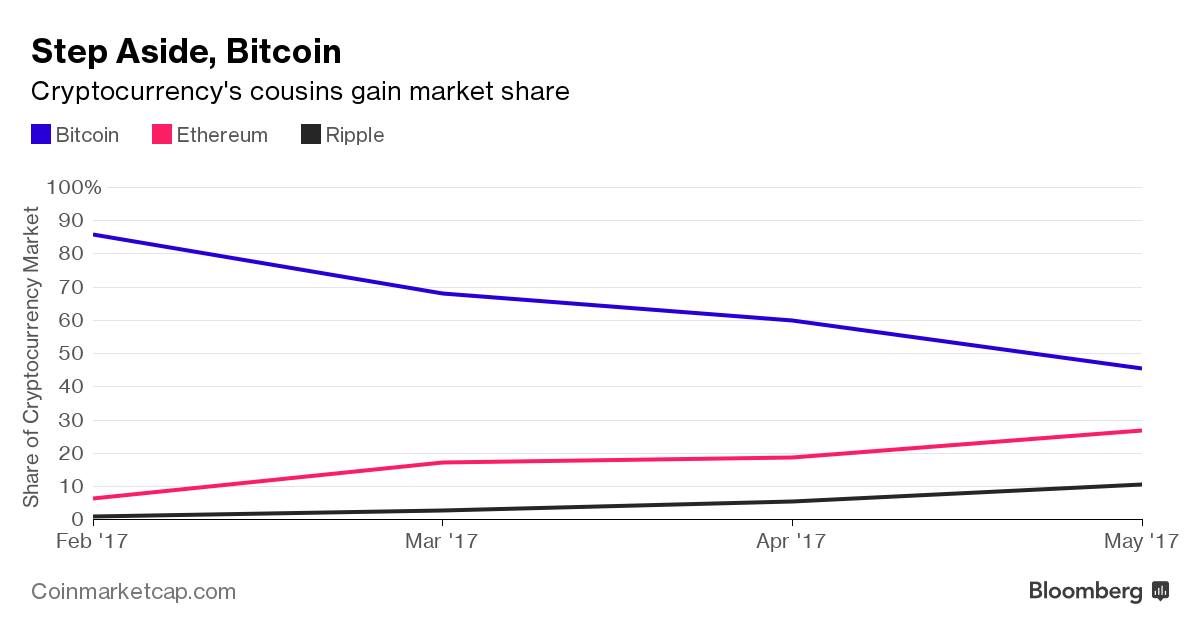 Etherum is welcomed by investors with open hands as without thinking too much about last years million dollar hacking fraud people are still going for it, giants from the field of healtcare to finance, all industries are taking their chances with Ethereum along with bitcoin.
You must be thinking Why they are so crazy about it?
Cause its the future of the world financing system & those who will pick it early will have a huge advantage over their competitors.
Before Carlson-Wee, Fred Wilson, co-founder and managing partner at Union Square Ventures, also called out the superfast progress of ethereum an ambitious looking symbol for the cryptocurrency world.
"The market cap of ethereum will bypass the market cap of bitcoin by the end of the year," said Wilson, who is also chairman of the board at Etsy Inc.
After skyrocketing more than 300 percent in the last year, bitcoin now costs about $2,300 a coin, which is still around 10 times the price of ethereum. But the second-most popular cryptocurrency is gaining market share fast.
Bitcoin currently dominates a little less than half of the digital currency market, down from almost 90 percent three months ago, according to Coinmarketcap.com data.
Meanwhile, ethereum has quadrupled its share, which now represents more than a quarter of the pie. Other virtual coins have also picked up steam. Carlson-Wee is a fan of auger, golem, zcash and monero.
Bitcoin's growth has started to catch up to its fundamentals, which is likely what has been driving its astronomical gain as of late, he said. Others have attributed the surge to speculation, as well as increased interest in Asia and adoption by established companies. Impressive performance aside, more than $150 has been knocked off bitcoin's price since late last week amid concerns about transaction speed, safety and a possible price bubble.
"We're absolutely still in the infrastructure building phase," Carlson-Wee said. "But I do think within one to two years, we'll start to see the first viral applications that are user facing."
KNOW ABOUT BITCOINS IN & OUT ! SHOP HERE....